Een wereldwijd erkende securitycertificering halen? Wil je praktijkgericht en op jouw niveau leren? Kies dan voor een SECO-training bij Computrain.
Over de SECO-certificering
Security & Continuity Institute (SECO) is Europa's certificeringsorgaan op het gebied van security- en continuity. SECO-Institute biedt certificeringen van beginners- tot seniorniveau in: information security, IT-security, privacy en data protection, ethical hacking, secure software, business continuity en crisismanagement.

Certificering is voor IT'ers heel belangrijk. Niet alleen voor je eigen ontwikkeling, maar ook voor je organisatie. Veel werkgevers eisen aantoonbare kennis en kunde. Bewijs je vaardigheden met een SECO-certificering.
Waarom SECO in plaats van EC-Council of ISACA?
Wat is de toegevoegde waarde van een SECO-certificering ten opzichte van Certified Ethical Hacker van EC-Council, en Certified Information Security Manager van ISACA? De populaire certificeringen van EC-Council, ISACA, ISC2, IAPP et cetera zijn gebaseerd op de Amerikaanse cultuur en wet- en regelgeving. SECO-certificeringen draaien juist om de Europese wet- en regelgeving en het inrichten en besturen van organisaties.

Wij hanteren een andere, praktijkgerichte manier van lesgeven en het cursusmateriaal is anders dan in Amerika. Ook zijn de Amerikaanse certificeringen voornamelijk op medior-niveau en niet op junior-niveau.
Welk niveau SECO-training past bij jou?
Je kunt in zeven certificeringstracks instappen op het niveau dat jij wilt. Ook zonder werkervaring of als je nog niet eerder een SECO-training hebt gevolgd.

Foundation-trainingen zijn voor beginners. Trainingen op het niveau Practitioner gaan over hoe je een bepaald thema implementeert. Practitioner is te vergelijken met het niveau van de bekende Amerikaanse securitycertificeringen als CEH, CISSP en CISM.

Wil je op het hoogste niveau met een securitythema aan de slag? Kies dan voor het niveau Expert of de titel Certified Officer bij de Security Academy van SECO-Institute.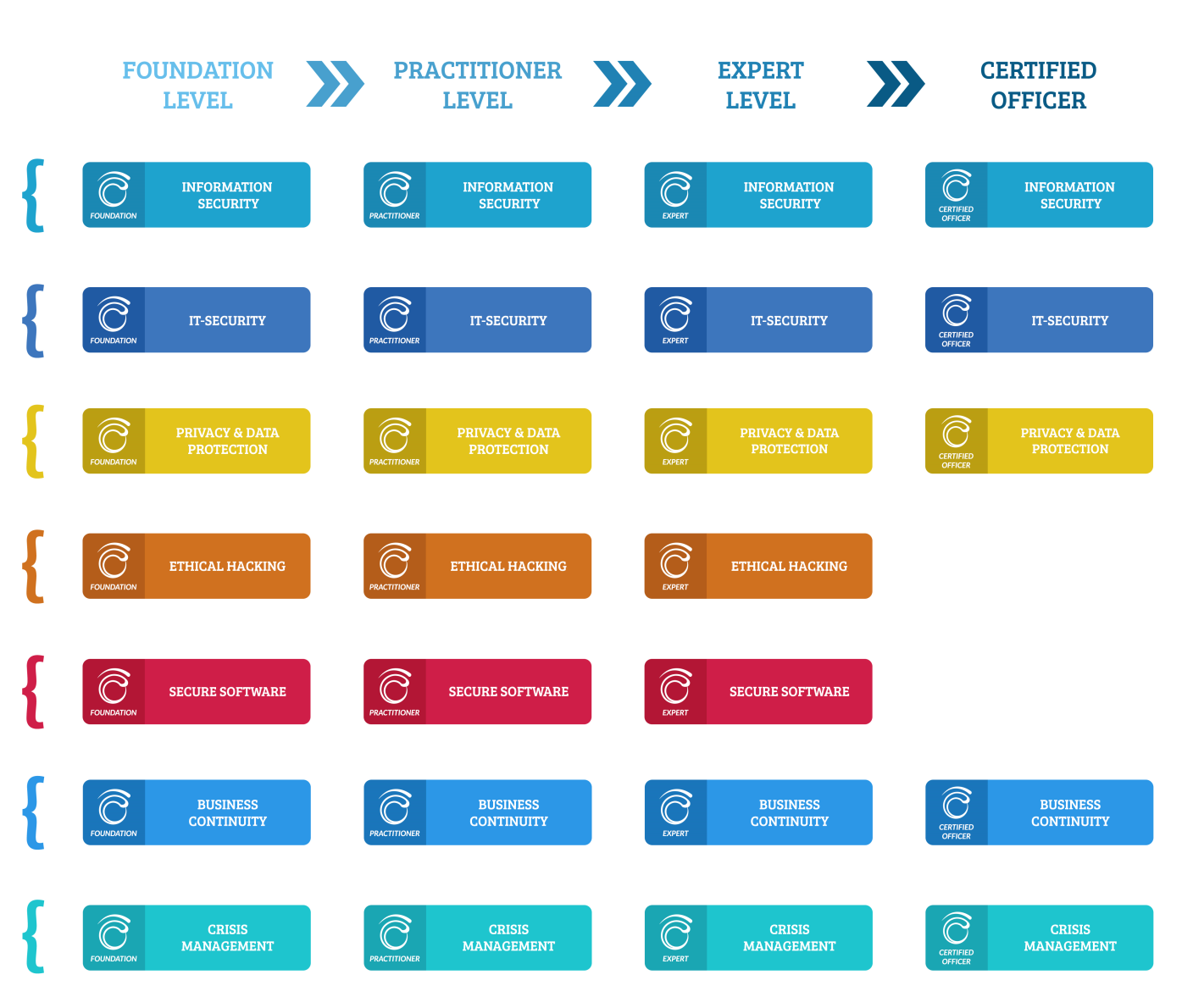 Wat leer je in een training SECO?
Bij Computrain kun je kiezen uit deze security-trainingen van SECO-Institute:

Business Continuity Foundation
Ontdek in 2 dagen wat het Business Continuity Management Proces voor jouw organisatie kan betekenen.

Ethical Hacking Foundation
Leer in 2 dagen de basisprincipes van ethisch hacken.

Information Security Foundation
Ontdek in 2 dagen de basisprincipes van informatiebeveiliging.

IT-Security Foundation
Verdiep je in 2 dagen in de technische kant van informatiebeveiliging.
Deze training is ook via e-learning te volgen: IT-Security Foundation Online of e-learning inclusief praktijkdagen IT-Security Foundation Online – PLUS.

Privacy & Data Protection Foundation
Krijg in 2 dagen duidelijk inzicht in de omgang met en het gebruik van persoonsgegevens.

Secure Programming Foundation
Leer in 2 dagen de basisprincipes van veilige software programmeren.
SECO-examen en SECO-certificaat
Het SECO-Institute neemt de examens af. Deze eindtoets bestaat uit multiplechoicevragen. Het examen is niet inbegrepen bij je training. Op de website van SECO-Institute lees je hoe je je aanmeldt voor het SECO-examen.

Als je slaagt voor het SECO-examen, ontvang je een certificaat en kun je je digitale badge aanvragen bij het SECO-Institute.
SECO-training volgen: klassikaal of online
Je kunt bij Computrain security-trainingen volgen op verschillende manieren. Alle SECO-trainingen:
Klassikaal: je leert van de ervaren trainer, via oefeningen en door het contact met je medecursisten.
IT-Security Foundation kun je behalve klassikaal ook op deze manieren volgen:
Neem gerust contact met ons op om jouw mogelijkheden te bespreken.
Advies over jouw SECO-security-training
Weten welke SECO-training het beste bij jou past? We adviseren je graag. Neem gerust contact met ons op voor meer informatie.

Bekijk ook eens de trainingen over:
- Architectuur en Cloud
- Business IT en Management
- Business Intelligence
- Informatiemanagement
- Requirements
- Blockchain